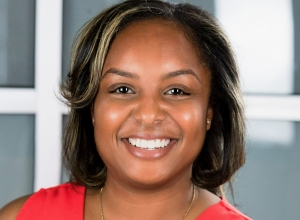 Chief Operating Officer and Director of Community Impact
cwest@uwvp.org
Having lived on the Virginia Peninsula for nearly her whole life, Charvalla has a passion for making connections in our community that make life better for our neighbors in need.  As the Chief Operating Officer and Director of Community Impact at United Way of the Virginia Peninsula, Charvalla leads the organization's efforts to support the nonprofit community and bring various sectors together in order to create Pathways out of Poverty.
After a 10-year career in sales and marketing, Charvalla began serving as a volunteer and eventually a paid staff member at the Avalon Center, a nonprofit organization that supports survivors of violence.  It was there that she saw firsthand how it takes people and organizations working together to make a difference in the lives of individuals and families who experience crisis, which inspired her dedication to strengthening our community's network of resources and support systems.
Since joining United Way in 2015, Charvalla has worked diligently to improve access to resources for people in need, and bring the community together to move people out of poverty. She began her role with United Way overseeing the Community Resource Center (CRC), providing information and referral services to residents of Williamsburg, James City County, and York County. During this time, she gained a thorough understanding of the available resources in our community, and how to braid those resources together to provide short and long-term solutions for individuals and families experiencing poverty. Recognizing the important roles advocacy and relationship-based referrals play when it comes to connecting people to services, Charvalla implemented the advocacy model that bridges the gap between available resources in our community and our neighbors who need them. Charvalla's knowledge of the complex issues that keep households in poverty coupled with her leveraged relationships, lead to operational improvements that expanded the CRC's impact, ultimately resulting in more families being lifted out of the cycle of poverty. In 2021, Charvalla lead the launch of United Way of the Virginia Peninsula's Community Assistance Network (CAN), based upon the CRC's successful advocacy model, to support the communities mentioned above, as well as residents of Gloucester, Hampton, Mathews, Newport News, and Poquoson. CAN now consists of over 150 of our community's most impactful human and social service agencies, and continues to grow.
Charvalla currently serves on the Board of Directors for Riverside Regional Hospital and Williamsburg-James City County Advancing Community Excellence; and as Chair of the Greater Virginia Homelessness Consortium.