THANK YOU TO ALL WHO PARTICIPATED IN THE
2022 FEMININE HYGIENE DRIVE!
~1,500 products were donated benefitting over 20 local nonprofits!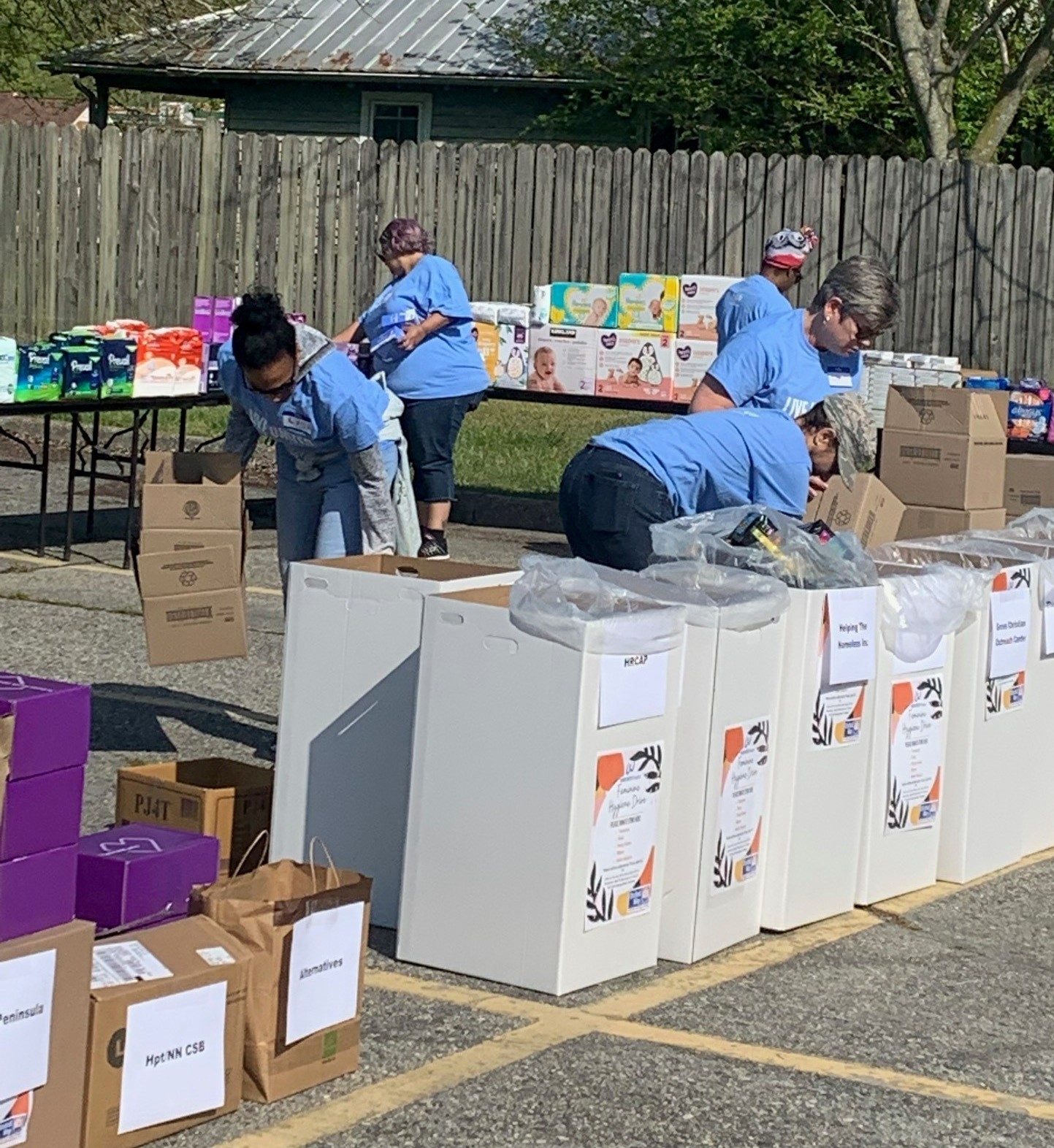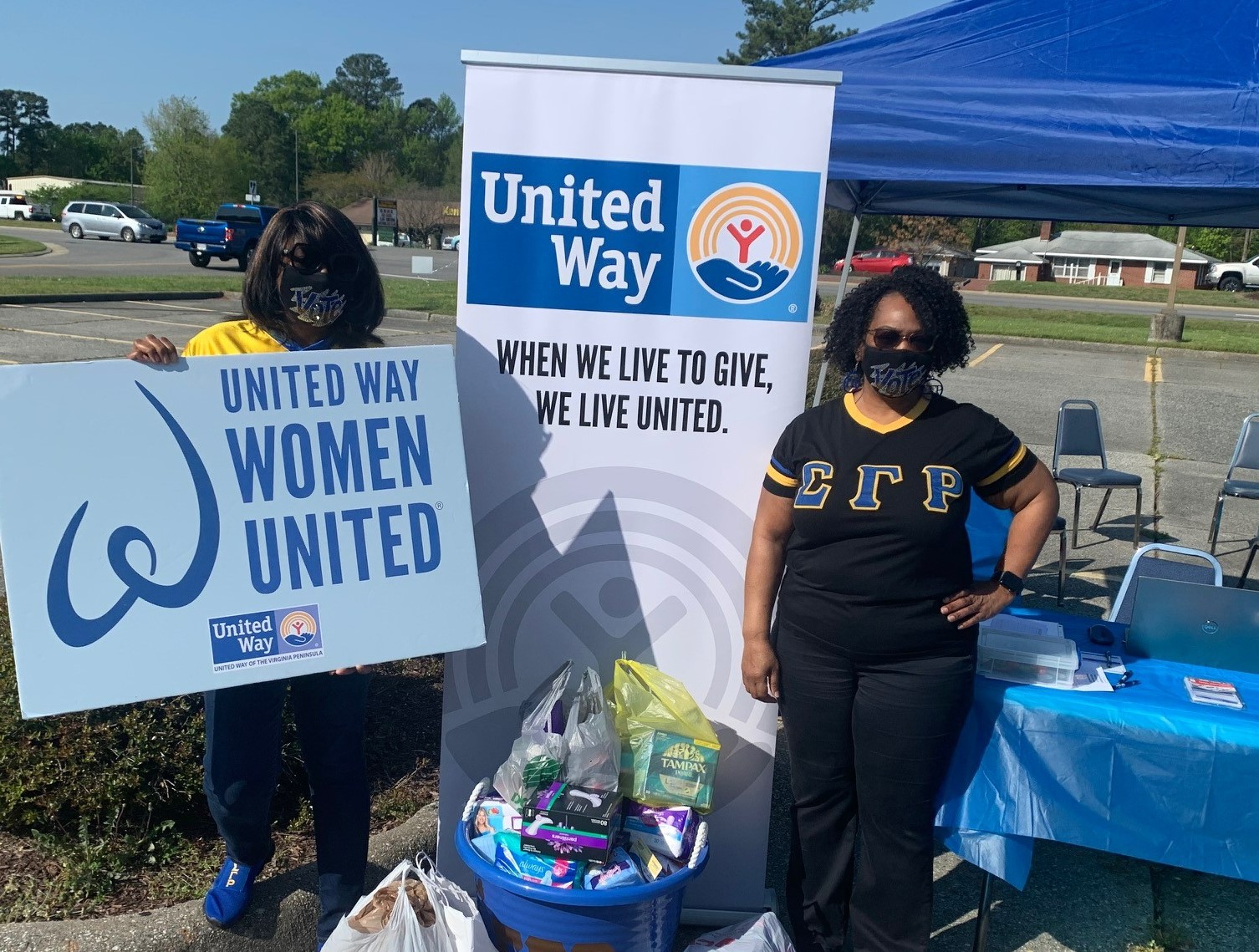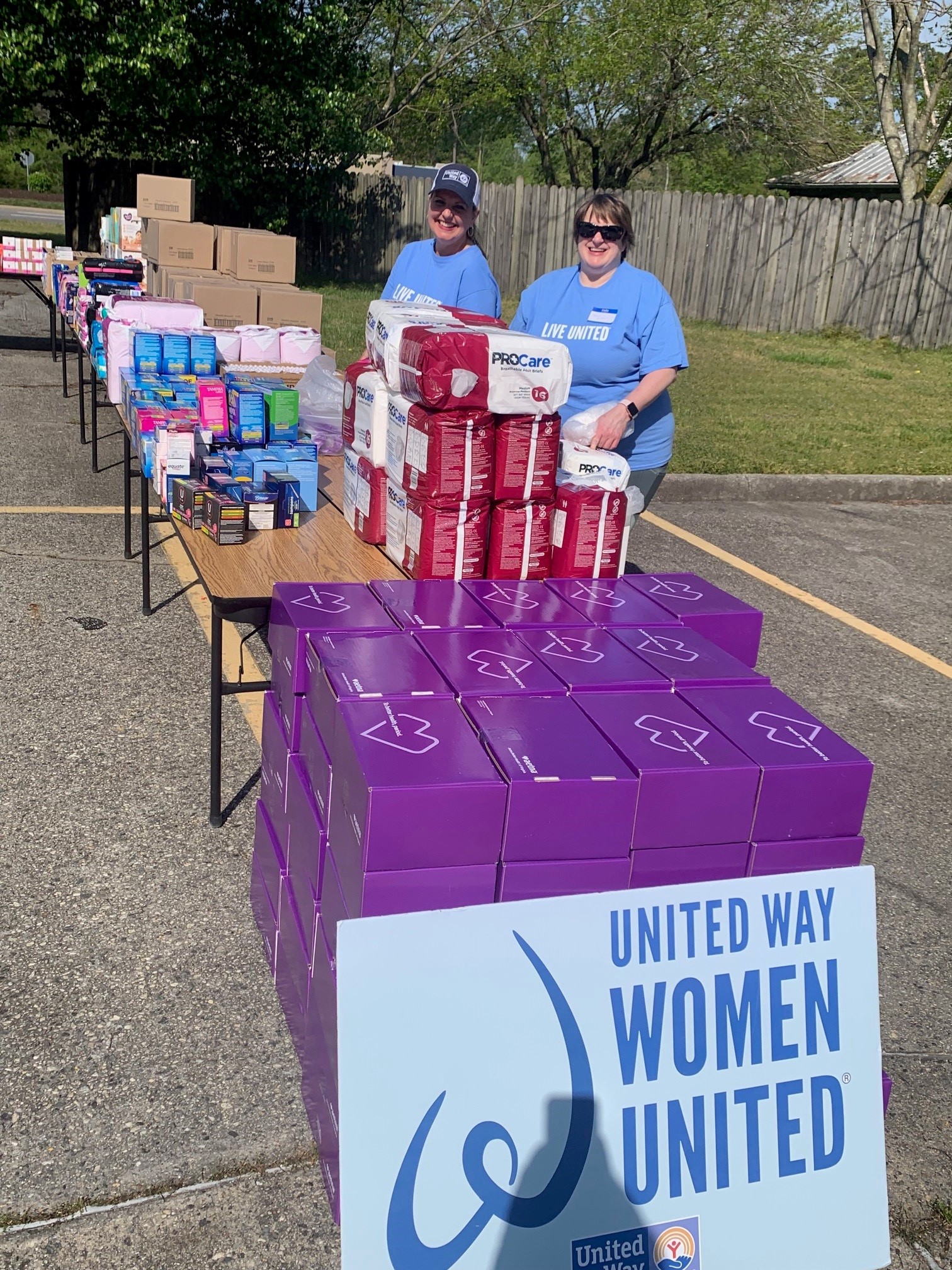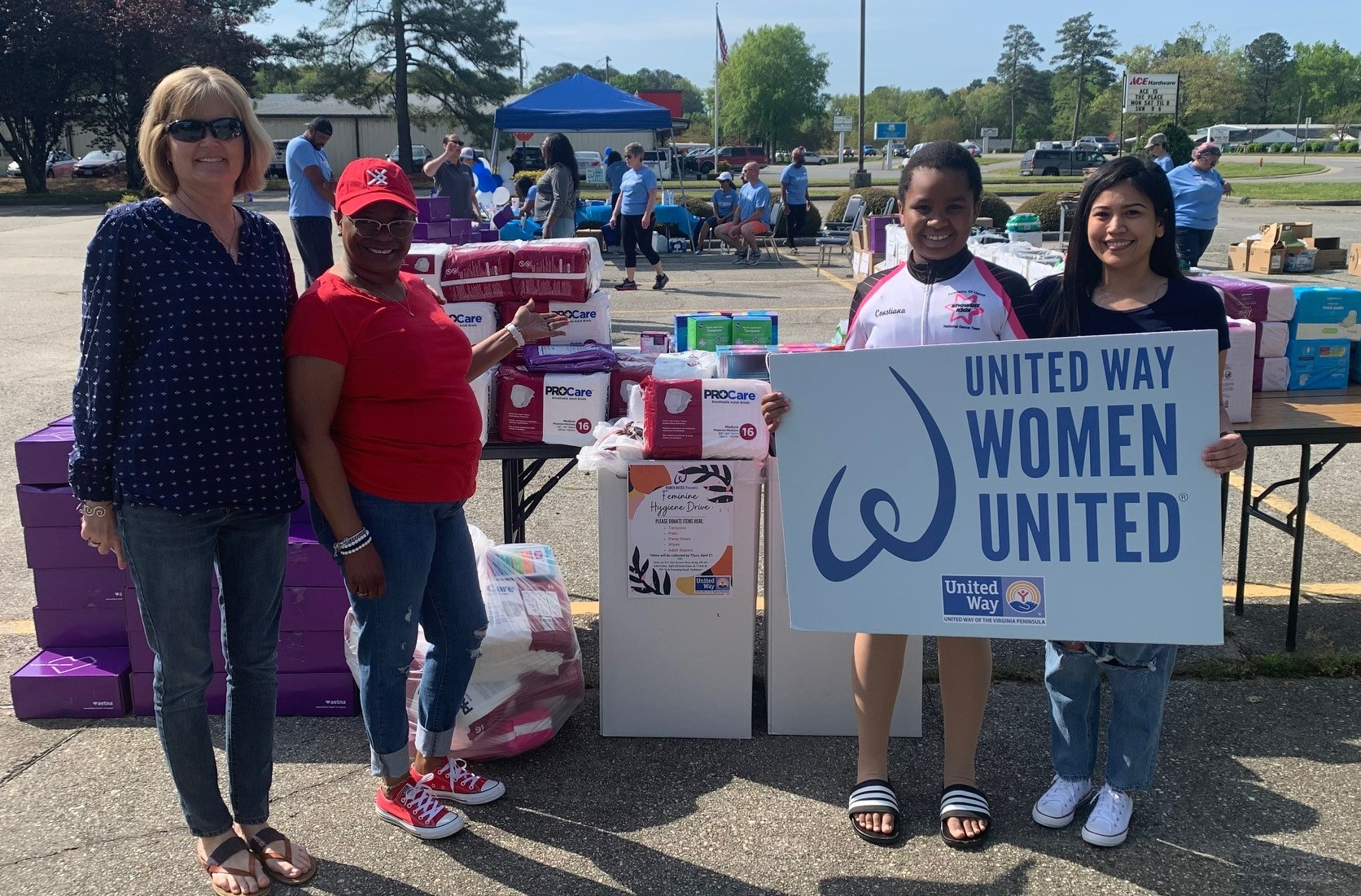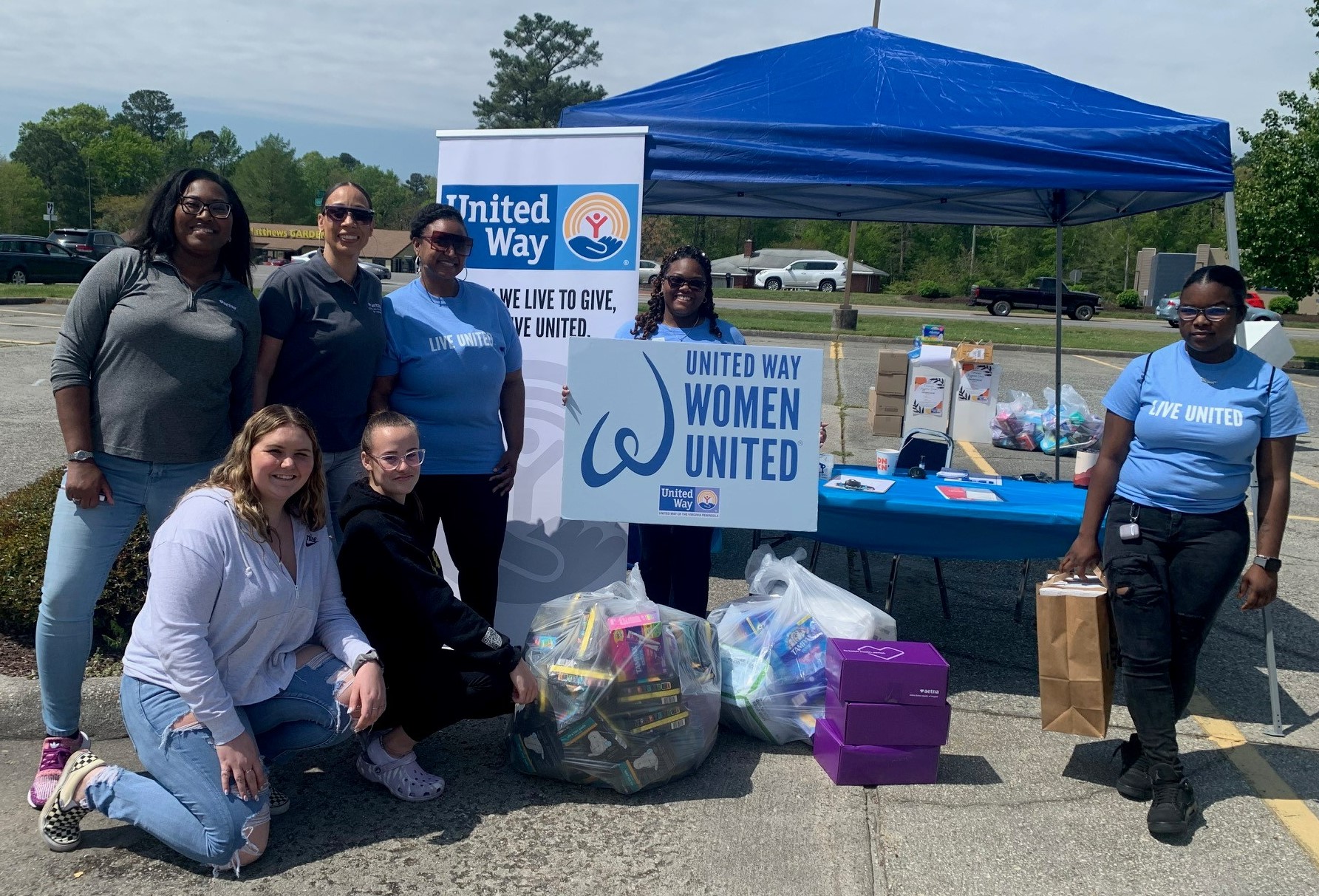 Last year, Women United members, volunteers, and supporters collected over 300 goods that were distributed to our nonprofit partners who serve women and girls of all ages experiencing poverty. This year, our goal was to collect 500 items, but by early April, not only had this goal been surpassed, but doubled, and we are thrilled to share that the drive ended with ~1,500 donated items!
The feminine hygiene drive began with an online campaign where over 360 items were donated thanks to the generosity of UWVP donors, volunteers, and other individual supporters. Several of UWVP's corporate partners not only helped promote the online campaign, but placed collection bins at their office locations over the course of March and April to encourage workplace giving. The 2022 drive ended with a drive-thru drop-off on Saturday, April 23 at United Way of the Virginia Peninsula's office in Yorktown.
To view all photos of this event, CLICK HERE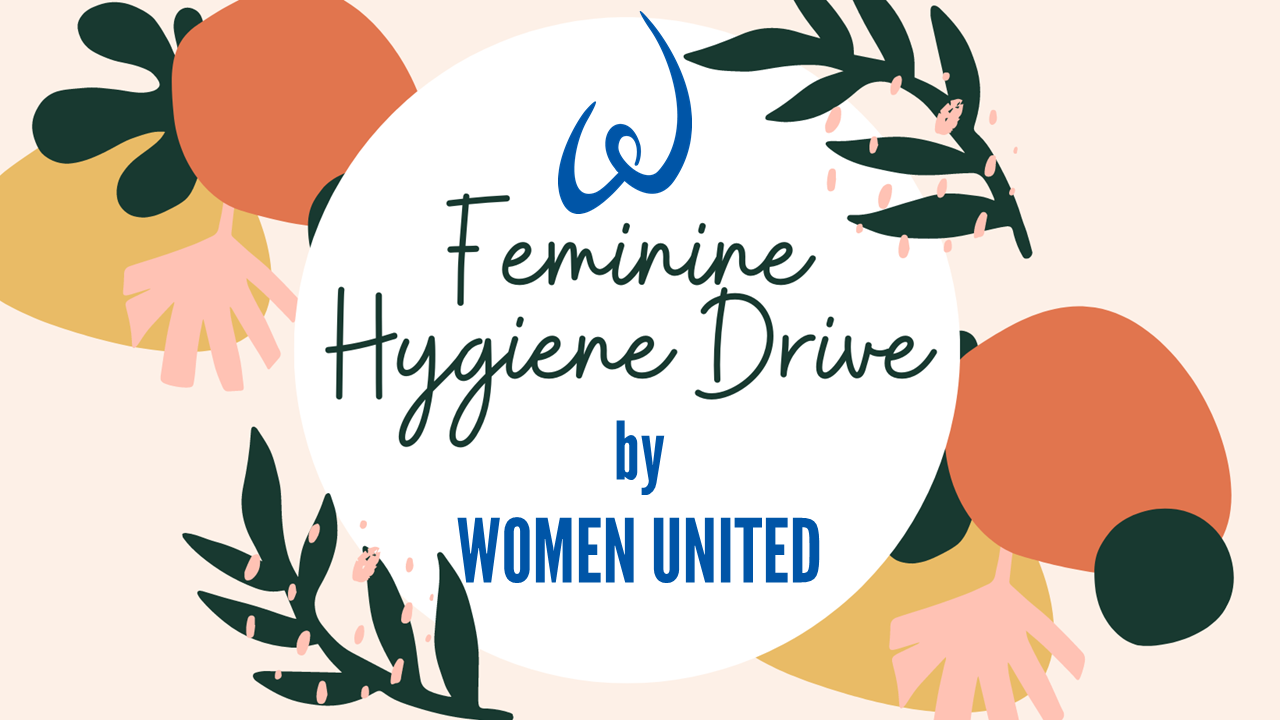 Who We Are
As an integral part of United Way, Women United® fights for the health, education, and financial stability of every person in every community. We are a diverse, vibrant, and international community, bound together by a powerful sense of belonging — to each other, to the organization's mission, and to the local communities we call home. Our powerful, global network of women leaders, over 70,000 strong nationwide, lives united against the most critical issues.
We Ignite Change
We don't stand by. We're raising our voices, rolling up our sleeves, and leaving our fingertips on a legacy of change. Communities need champions who understand their problems, see their potential, and will offer solutions that make a difference. Through United Way, we have unparalleled resources to make lasting local change. We ignite the power of women - who bring passion, expertise, and resources needed to get things done.
Why Engage
By joining Women United, you'll become part of a community of like-minded women who contribute their personal passions, inspired ideas, and unique strengths to create pathways out of poverty for our friends and neighbors in need. As part of the organization, you'll have opportunities to network and collaborate with key business and community leaders. This is your chance to learn about the key issues impacting our community, advocate, volunteer, give and make a difference.
Our Mission
To mobilize the power of the women to advance a common good agenda on the Virginia Peninsula. Consistent with United Way of the Virginia Peninsula's strategic goal of creating Pathways Out of Poverty, Women United focuses their efforts around serving women and children.
HOW TO JOIN
A $250 donation can be made incrementally with yearly, quarterly, or monthly options. Join online at any time by visiting www.uwvp.org or pledge through your employer's annual United Way giving campaign.
+Supporting Member: $250 - $999
 
+Women of Action: $1,000 – $4,999
 
+Leading Women: $5,000 - $9,999
 
+Women of Tocqueville: $10,000+
For more information, call (757) 229-2222, press 2 or email womenunited@uwvp.org
Key Events
Through a variety of philanthropic events or enrichment and volunteer opportunities, members of Women United stay involved in a variety of events throughout the year. Key events include: 
       +Feminine Hygiene Drive (in lieu of Stone Soup due to COVID-19) - Spring
 
       +Annual Signature Luncheon - Fall
 
       +Change for Work Clothing Drives - Year-round
 

Women United Charter Members:
     Lindsey A. Carney, Patten, Wornom, Hatten & Diamonstein
     Jerri F. Dickseski, Huntington Ingalls Industries (retired)
     Teresa L. Edwards, Sentara Healthcare
     Kasia Grzelkowski, VersAbility Resources
     Tracy Keller, Girl Scouts of the Colonial Coast

Gallery:
November 2021 - Women United Fall Luncheon
March 2021 - Women United Feminine Hygiene Drive
                     "A woman is the full circle. Within her is the power to create, nurture and transform." - Diane Mariechild